Middle Office Services
At Trellis, we know that a well-run middle office is critical to the overall success of an investment organization. We also recognize the challenges and demands that are placed on them and know that when companies invest in their middle office services, it improves the overall operations of the organization. The Trellis platform can help to improve your company's operations by alleviating the burden on your middle office and making their growing demands easier to navigate.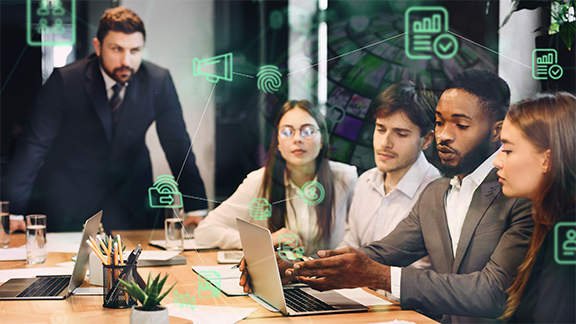 Trellis Show
Trellis Show provides access to consistently organized deal rooms, enabling faster suitability determinations for clients, and the ability to enhance any digital roadshow with broker-specific paperwork and/or disclaimers. Here you can use tools to monitor and track client progress on a deal-by-deal basis to ensure a regulatory-compliant process from discovery to investment, including full paperwork digitization that allows for invoicing and fee collection to facilitate easier investments and a better client experience.
Trellis Review
Trellis Review supports all investor needs for seeking diligence-ready deal flow, allowing for the ability to complete KYC and monitor transactions, along with NDA management and control. Integrated document management, including fully executed agreements, custody, tax documentation, and e-sign integration, delivers investors with everything they need to expedite the remainder of the investment process.
In a post-pandemic world, how does the platform help me modernize the middle office?

The middle office is the keeper of an investment firm's most important data, but with rising costs, it is often overlooked in favor of the front and back offices. The Trellis ecosystem can be used to facilitate middle office functions for VCs, PEs, broker-dealers, advisors, banks, angel, and incubator groups, SPVs and serial capital raisers. These service offerings can be easily adapted to serve any party who needs to collect, organize, and disseminate large amounts of information. Our technology solution supports middle offices through:

Access to consistently organized data rooms that create a full Digital Roadshow to allow for quicker review and diligence

The ability to enhance any digital roadshow with broker-specific paperwork and/or disclaimers

Visibility to track client progress and ensure they follow a regulatory-compliant process from discovery to investment

Management of the entire paperwork process with built-in e-sign capability

Tracking investments on a deal-by-deal basis to assist with invoicing and fee collection

Access to custodians with full transactional integration in the investment process

With tight operating margins and budget constraints, how can I address operational complexity?

Historically, the middle office supports the front office division by offering information gathering, risk management, financial control, and legal support. This is a particularly vital role in the investment process, yet so much time and money is spent on information and data collection leaving limited resources for risk management and legal support. With Trellis, our technology solution can minimize the data collection and presentation to allow for your team to spend the needed time to fully diligence, determine the risk, and support the front and back office with the proper support.

Our Data Conductor tool facilitates a regulatory-compliant, fully transparent exchange of information between parties, such as the broker and the issuer. Information is intuitively collected, organized, and made available to brokerage clients.

All participants in the user's ecosystem can monitor activity and track document collections with full transparency, giving the user more time to focus on other activities such asset raising.

Why do I need a middle office?

To make proper and effective investment decisions data is critical, but the key is having the right data, presented in such a way that your team can find what they need to make a good decision quickly. Many firms have the tools to gather data, but often they are in multiple systems, structured differently, and not all the information is available when you would like to review and decide. Not having enough data can lead to a "no" on what may well be a great investment; while at the same time the same result can occur if you have too much data but cannot get through it to make an effective decision.

Many firms continue to operate without a middle office, relying on front- or back-office to fill the gap. This often results in the implementation of multiple systems being used and often not for their primary purpose, leading to different interpretations of the same underlying data. More and more we see the need for the middle office growing. It can be an untapped source of value, that with the right technology solution, can change from a cost center supporting mundane, ancillary activities, sandwiched between its more important counterparts, to a value-based program to support a firms full needs.