Built by Investors, for Issuers
Raising capital is difficult. Finding quality deal flow to present to your investor clients can be challenging too.
Trellis is a digital platform providing an end-to-end solutions for participants in private investments. The platform provides a suite of microservices to facilitate KYC, access, diligence, execution, custody, communication and secondary trading.
We have taken the complex process that is a Reg D capital raise and provided an automated workflow that connects and provides benefits to those raising capital (issuers); those intermediaries who seek quality, ready for diligence deal flow such as RIAs, Family Offices, Broker-Dealers, etc; and those looking to invest, and provided a seamless connection for all three along with an automated workflow that expedites the entire investment process.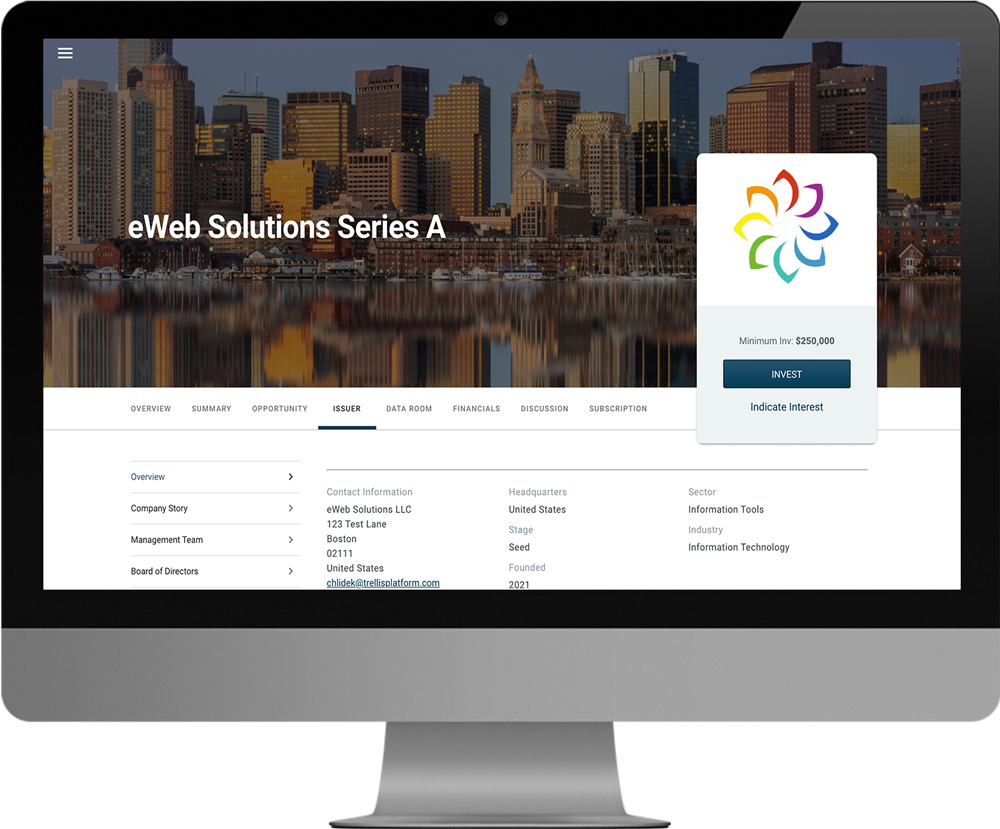 BY 2023, PRIVATE EQUITY WILL OVERTAKE HEDGE FUNDS AS THE LARGEST ALTERNATIVE ASSET CLASS
--Institutional Investor, October 18, 2018
79%
Of Investors expected to increase private equity allocation by 2023
59%
Estimated growth in alternative investment industry by 2023
$14 Trillion
Expected size of alternative investment industry by 2023
POWERFUL FEATURES
Four Portals, One Solution.
Trellis Raise
Through the Raise portal, the issuer will provide diligence information which will be organized and presented, in a consistent format, to through the Trellis Show portal.
Trellis Show
The Show portal will provide a detailed overview of the investment opportunity, with a full diligence-ready data room, a communications portal, and all documents needed to complete the transaction.
Trellis Review
The Review portal was created for seeking diligence ready deal flow to present to investors. The portal allows the user the ability to complete KYC, monitor transactions, and support all investor needs.
Trellis Invest
Investors will only see deal flow approved by their fiduciary inside their personal digital locker. They can review, analyze and ultimately invest in the opportunity- without every leaving the system.

TRANSACTION SERVICES
Trellis transaction services seamlessly enable transactional process flows with complete transparency between all involved parties.
FINANCING READINESS
Trellis enables issuers to convert any opportunity into an institutional, standardized package for review and analysis by potential investors.
TRADING
Trellis provides connectivity to alternative/secondary trading markets for secondary trading.
Learn More About How Trellis Can Help you